Exol Optifarm Master 15W-30
Low stock: 4 left
Regular price
Sale price
£722.09
Unit price
per
Sale
Sold out
View full details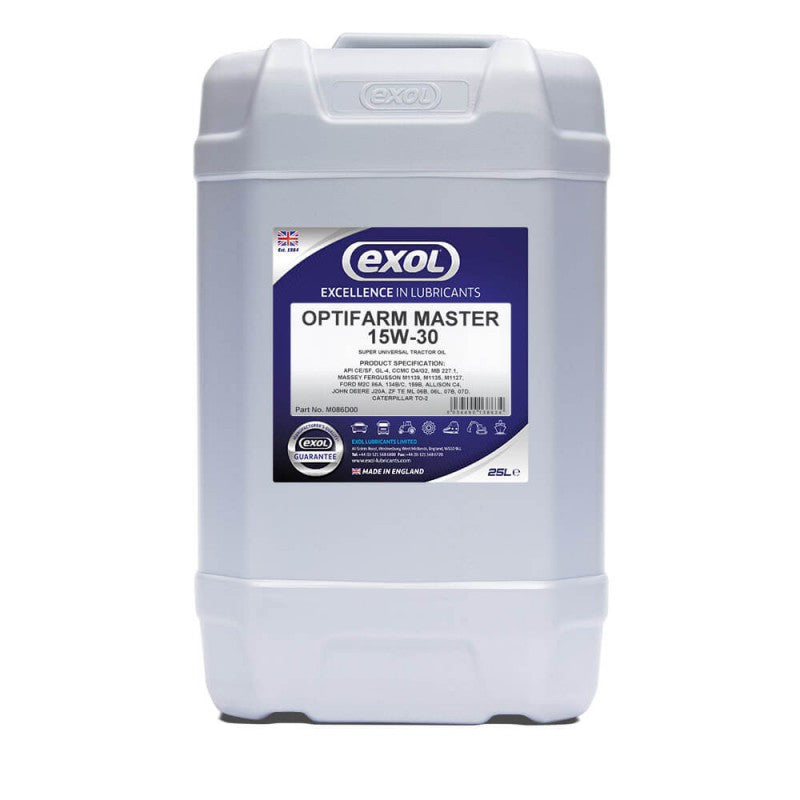 Product Features
Optifarm Master 15W-30 is a Super Universal Tractor Oil grade suitable for engines, transmissions, hydraulics and final drives.
Optifarm Master 15W-30 is blended from carefully selected base oils and the latest in additive technology to produce a lubricant for the demands of most farm equipment.
The latest additives used help reduce wet brake noise and ensure protection even under the most arduous of conditions. Optifarm Master 15W-30 is suitable for use in both normally aspirated and turbocharged diesel and petrol engines, transmission systems including those fitted with wet brakes, hydraulic systems, oil immersed clutches, gearboxes and final drives. It is suitable for agricultural, plant and off road machinery.
Product Specification;
API CE/SF, GL-4, CCMC D4/G2, MB 227.1, MASSEY FERGUSSON 1135, 1127, 1139, FORD M2C86-A, 134-B/C, 159-B, ALLISON C4, JOHN DEERE J20A, ZF TE-ML 06B, 06L, 07B, 07D, CATERPILLAR TO-2
Optifarm Master 15W-30 - MSDS (Material safety Data Sheet)